How to Submit Your Timesheet?
Step 1: Go to Bookings and select Current from the left hand side menu.
Step 2: Find the booking you wish to confirm. Bookings with timesheets will have a button called 'Confirm Booking'.
Step 3: Click on the 'Confirm Booking' button for the booking you would like to confirm with the actual times delivered.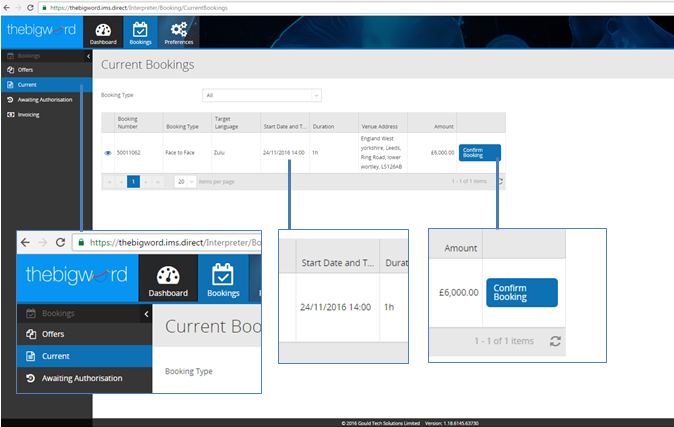 Step 4: Click on 'Add Files' to upload the signed timesheet by the client for the booking. On clicking 'Add File' a window will open to enable you to select a timesheet from your documents.
Supporting documentation such as a signed Timesheets or receipts for travel supplements are easily uploaded for each booking via the 'Upload Files' option.
IMS Direct supports the following file types:
MS Office files
PDF
PNG
JPG
 The file size limit is 5MB per file. Note you can only upload one File per booking.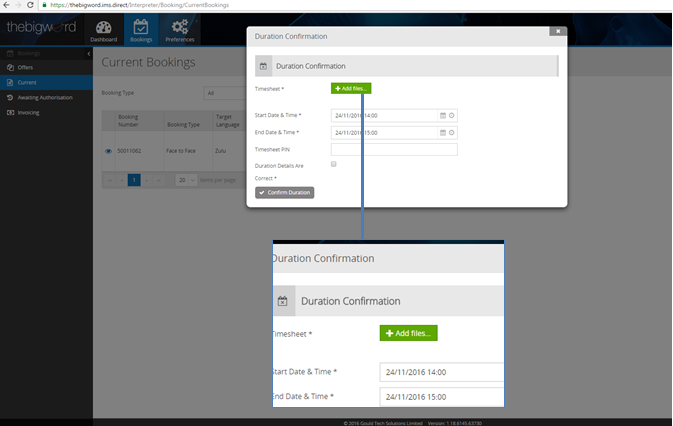 Step 5: Check the Start and End times of the original booking match to the actual times you delivered. If the times are the same you don't need to make any changes. If you need to update the times click on the calendar and time icons to make the appropriate choices for both Start and End times and dates.
Step 6: If you are able to perform this process onsite whilst with your client, ask them to review your screen to ensure they agree with the times. They will then be required to enter their PIN into the 'Timesheet PIN' box to validate this timesheet.
NOTE: IMS Direct Interpreter Portal can be accessed using tablets but you will require access to the internet.
Step 6: If you are performing this task whilst away from the client you can leave the 'Timesheet PIN' field blank.
Step 7: Click the 'Duration Details Are Correct' tick box.
Step 8: Click on the 'Confirm Duration' button to submit the details.